This state-approved certificate program is designed to enable educators to create and run a makerspace, become proficient in maker-based projects, and explore maker-centered pedagogy for STEM-rich learning. This unique graduate certificate program is perfect for K-12 educators, librarians, media specialists, woodshop teachers, college educators, technology enthusiasts and those interested in STEM or STEAM. It is offered by the Rutgers Center for Mathematics, Science, and Computer Education in partnership with the Rutgers Graduate School of Education.
Next start date: 9/5/2023
Application deadline: 8/14/2023
Format: Hybrid or 100% Online* 
*Hybrid option allows students to utilize Rutgers Makerspace to support their learning. Students who elect a 100% online option are required to use their local makerspace and/or maker tools. 
Credentials Earned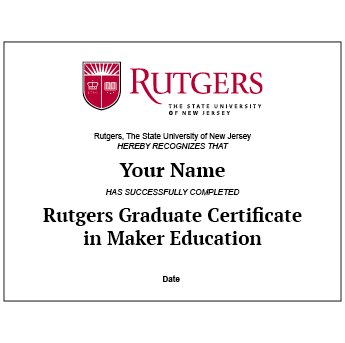 Certificate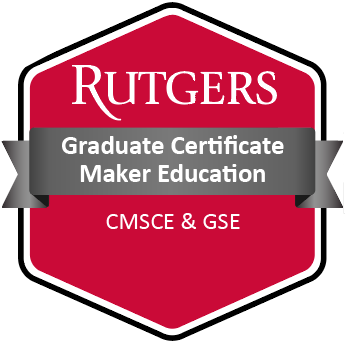 Digital Badge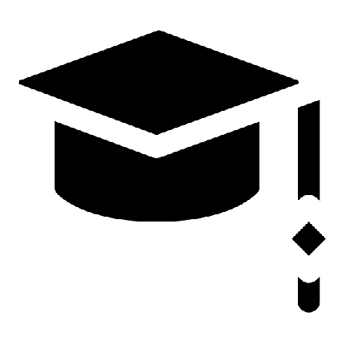 Graduate Credits
(Non-credit also offered)
---
Format & Schedule
The program is offered in hybrid format, with live classes (virtual and/or face-to-face) alternating weekly with asynchronous, virtual classes. Live classes are held one day per week from late afternoon to early evening. All face-to-face meetings will be held in the Rutgers Makerspace following strict social distancing and other COVID safety guidelines. A 100% online option is also available if students have access to a local makerspace or maker tools. 
Non-credit option: Students may elect to earn a non-credit certificate.

Learn about the non-credit option
---
Program Curriculum
| Course Number. | Course Name. | Credits |
| --- | --- | --- |
| 15:290:566 | Fall, 2023 - Introduction to Design Thinking | 3 |
| 15:290:553  | Spring, 2024 - Developing a Maker Mindset  | 3 |
| 15:290:555 | Summer, 2024 (May 30 - July 7)- Makerspace Safety and Emergency Lab  | 3 |
| 15:290:554 | Summer, 2024 (July 10 - Aug 16) - Designing/Facilitating Maker-Centered Learning Environments | 3 |
| 15:290:559 | Fall, 2024 - Maker Education Capstone | 3 |
|   | Total Credits | 15 |
---
Testimonials
"The Maker Ed program was an invigorating experience that continues to enhance the important work I do with elementary learners everyday as STEAM instructor and technology coordinator. After collaborating with so many talented educators, honing my Maker Mindset, and exploring technologies in the Maker movement, I was inspired to pursue lifelong dreams of developing a STEAM Lab specifically for K-2 students. My learning at Rutgers not only gave me confidence to do this, but also in-depth knowledge that was crucial as I sought out these niche positions. Next year, I'll be taking on a new role as the K-2 STEAM Instructor at an independent, progressive school in New York."

Jessica Cathcart, M.Ed.
Academic Technology Coordinator, Speyer School
"The lessons from these courses far extend the classroom and helped me advance in my career as a school library media specialist. When my district learned about my knowledge gathered from the program, they put me in charge of designing, budgeting, and opening our new makerspace. I was very well prepared to complete the endeavor and had much of the preparatory work done from the completion of the Maker Certificate."  

Mary Beth Sieminski
Media Specialist, Hammonton High School
"I know so much more about the design process, standards, and maker theory. I feel more confident teaching engineering design to my students."

— Anonymous survey response
---
Limited Scholarships available
A limited number of competitive scholarships are available for this program. You may apply for a scholarship by completing the application form. Selections will be made based on two criteria: financial need and merit of your application. The primary eligibility requirement is participating in and completing the full for- credit program. Please complete the scholarship application here.
---
Frequently Asked Questions (FAQ)
---
Program Faculty
Chris Anderson, M.Ed.
Todd Menadier, M.S.
Edward Cohen, Ed.D.
Lauren Shohen, M.Ed.
---
New Course: Introduction to Design Thinking
Starts Fall 2022. Learn more about this exciting course.
---
Application Instructions
FALL APPLICATION DEADLINES: No applications can be admitted less than one week before the beginning of the semester in which the program would be started. Applications must be submitted and complete by August 14th, 2023.
APPLICATION REQUIREMENTS: To be considered for admission to the program, applicants must provide all of the following:
Personal statement/narrative (approximately one page in length) that describes why the program is relevant to the applicant's interests and/or career goals
One letter of recommendation
Undergraduate and graduate transcripts
Only complete applications will be reviewed.

HOW TO APPLY:
Non-GSE Students: 
Applicants who are not current GSE students apply online at the Graduate Admissions website: http://gradstudy.rutgers.edu/
Under the apply window, click on "Apply Now" and follow the instructions given.
Create an Account or login.
For "Level of Application, select Graduate
For "Applicant Type," select Certificate
For "Area of Study," select Education
For "Location/Instructional Method," select New Brunswick
For "Program Selection," select Education - Maker Education (Certificate) New Brunswick
Complete the application by providing the requested information.
Supporting materials must be submitted online or mailed to the Graduate Admissions office at Office of Graduate and Professional Admissions (New Brunswick), Rutgers, The State University of New Jersey, 65 Davidson Road, Room 200L, Piscataway, NJ 08854-5602 U.S.A.
Enter payment information for the non-refundable application fee.
Submit your application.
Current GSE Students:
All applicants who are currently enrolled in a GSE program and wish to begin the certificate program while continuing their current program should contact the GSE Office of Student and Academic Services (OSAS) at academic.services@gse.rutgers.edu.
Applicants are responsible for reviewing and confirming that they meet program requirements before the application is submitted. Rutgers Graduate School of Education WILL NOT refund the application fee if an applicant is not accepted.
When the entire application process is complete, students simply register for the courses in the program as described on the program handouts and on the GSE website gse.rutgers.edu. It is the responsibility of the student to enroll in all of the required courses through Rutgers University. No program requirements may be met at any other institution. Students are expected to maintain a "B" or better average as a non-degree student. Accepted students will have 5 years to complete the program.
After completing all of the required courses in the program, students should contact the Office of Academic Services at the GSE. Students will receive official documentation of their completion, endorsed by the Rutgers University Graduate School of Education.
TUITION AND FEES:
Costs align with graduate tuition of the Rutgers Graduate School of Education, currently $826.00 per credit for part-time NJ residents, and applicable student fees (Off-campus fee of $293.50 per semester and computer fee of $118.50 for 3 credits).

https://finance.rutgers.edu/student-abc/tuition-fees (click for New Brunswick, Graduate Tuition for .pdf table)
---
In Person & Virtual Open House: August 1, 2023 at 12:30PM
---
Earn Your Graduate Certificate in Maker Education

Learn to Create & Run a Makerspace
You will receive the education and resources necessary to start and supervise a makerspace, or projects using makerspace equipment (e.g., 3D printers).
Become Proficient in Maker-based Projects
You will gain proficiency in maker-based learning activities or projects. This includes the development of curricula and assessments meeting common standards in STEM subjects.
Improve Pedagogy
You will also explore how maker-centered projects can be leveraged as a vehicle for meaningful, discovery-based learning. This can be applied in the field of mathematics, science, computer science, as well as integrated STEM/STEAM curricula.