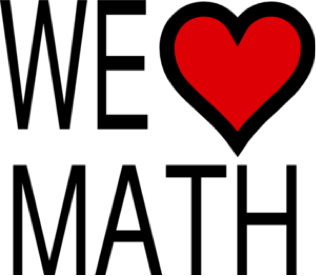 Math Common Core Standards In Action (CCSS)
Explore the Standards for Mathematical Practice through a series of problem solving sessions that will focus on the types of problems, facilitating techniques, and classroom culture that encourage students to engage in genuine mathematical reasoning. We will discuss each problem solving session in relation to the practice standards we enacted, and will explore how the activity can be modified for various grade levels and needs. Schools can also request sessions focusing on specific content standards (e.g., to address the increased emphasis on transformations in middle school geometry).
The Engaged Learner In Math- Best Practices
What makes some people engage with a puzzle or problem for hours on end? Perhaps it is the thrill of tackling a challenge and figuring something out through their own reasoning powers. Perhaps it is their innate curiosity about how something "works," for example a magic trick or a device. Sometimes it may be the fun of working on something along one's friends, or really needing the answer to a question with practical implications. This workshop series explores these questions and more in the context of the classroom. General engagement principles will be discussed and applied to the context of specific mathematical topics.
Higher Order Math Tasks And The PARCC
As PARCC assessments are implemented across school districts, teachers must engage students in the type of higher order thinking that is required to be successful on these assessments, particularly in mathematics. Luckily, there are plenty of resources available with great math questions that ask students to think and problem solve. In this workshop, we will share and exchange resources related to higher order math tasks and assessments.
Technology Integration In Math
Come explore how software such as GeoGebra and devices such as the iPad can be used in the math classroom to offer opportunities for interactive explorations that are not possible with just pen and paper. Technology-based activities can challenge students to engage in genuine reasoning while increasing student engagement at the same time. Specific activities designed for topic introduction, practice, and assessment will be discussed.
Affective Engagement In Math
How can we tell whether our students are truly engaged in math class? In this workshop, we will explore the affective dimension of mathematics learning and how this can impact mathematics problem solving and content learning. We will also discuss the importance of creating an emotionally safe learning environment where students can explore and discuss mathematics in a way that promotes conceptual understanding.
Math Applications In The Classroom - Engineering Design Challenges
With STEM education receiving increasing attention, mathematics teachers can take advantage of engineering design challenges (EDCs) to highlight particular mathematics topics in a way that makes students want to engage with the material. EDCs also serve to help students see the applications of the mathematics they learn. Come work on some EDCs, learn where to find EDC databases, discover how you can use them in your mathematics classes.
Problem Solving in Mathematics
Becoming a good problem solver is arguably the ultimate reason for studying mathematics! In this workshop we discuss the importance of problem solving, the reasons why some students struggle with it, and explore strategies to help students develop this very important and useful skill. (Grades 3-8)
Number Sense
In this workshop we examine the importance of a strong number sense for even simple arithmetic much less more advance mathematics and discuss teaching strategies that help the development of students' number sense. (Grade k-5)
The Role of Visualization and Bar Modeling in Problem Solving
The Bar Model Method is a problem-solving strategy that was developed by an expert team of curriculum developers in the Singapore Ministry of Education in the early 1980s. In this workshop you will learn about this highly visual tool that can be used to solve arithmetic and algebraic word problems. (Grades 2-6)
Informal Algebra in elementary School
Learn how young students can be encouraged to think algebraically. In this workshop the participants will solve a series of fun and engaging mathematical problems, in which pictures are used to represent equations or systems of equations. (Grades K-6)
Using Games to Engage Students in Problem Solving (Grades 5-9)
We will explore number games, brainteasers and magic tricks that provide a fun, engaging environment for genuine thinking and problem solving. The activities are built around topics such as number sense and operations, connections to algebra, reasoning about area of polygons, and general problem solving strategies. Adaptations to various grade levels will also be discussed.
Manipulatives in the Geometry Class: Fun with Pattern Blocks and Geoboards (Grades 6-10)
In this workshop we will use pattern blocks and geoboards to explore questions related to polygons. What types of polygonal regions can be created with each type of manipulative? What can be said about their interior and exterior angles? What difficulties arise in trying to compute the perimeter and area of such polygons? The problems will cover a wide range of difficulty levels, and we will discuss both informal and theoretical approaches to geometric reasoning.
A Picture is Worth 1000 Words: Exploring the Interplay Between Visual Representations and Reasoning (grades 6-10)
In this workshop we will explore the many ways in which visual representations can facilitate reasoning and insight in the math class. Static or dynamic diagrams can provide insight into a new topic, deepen existing understanding of a familiar topic, or help in the problem solving process. We will be looking at examples from Arithmetic, Algebra, and Geometry, including situations or problems that are not traditionally approached through visual representations. Some examples of "proofs without words" will also be discussed.