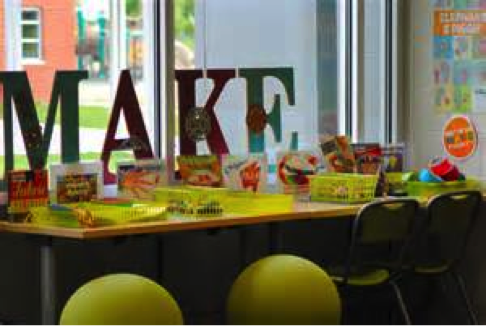 Maker Education Movement – Design, Creativity, & Innovation
The best way to engage your classroom and deepen content knowledge is for students to make something. When students have the opportunity to tinker, they build a skill set and a sense of self-efficacy that will serve well in school and beyond! This is why the Maker Movement has sparked a creative learning revolution and Maker Spaces are popping up in more and more schools and communities today! With affordable and accessible technology, the Maker Movement makes "learning by doing" a realistic multidisciplinary approach.  We provide PD and support in all aspects of Maker Education.
---
The new NCLB- No Coders Left Behind. Successful 21st century citizens need to learn coding so that they are the creators not merely consumers of computer programs and apps. STEM learning in the classroom goes beyond introducing computers and multimedia to students. It needs to support a new model of learning via coding. Teaching teachers to code is the fist step in the right direction. Join us as we introduce you to basics of multimedia programming.
The potential for deep STEM content learning through digital games is great. Research is demonstrating the immense potential of games for increasing student engagement and content knowledge.  With the backing of research more and more amazing STEM games are being developed.  Join us as we introduce you to some of the best in STEM education.
Technological Affordances & Engagement
Computer-supported inquiry learning has the potential to foster productive engagement with the task and also enhance students' motivation. This is because many students find computers to be fun, offering them a "hook" for learning. Research implies that students are engaged if given the opportunity to collaborate in computer-supported and inquiry-based learning environments. Technological affordances support scientific practices such as collaboration on defining and identifying real-world problems, engaging in argumentation from evidence, and developing and interpreting models. We will explore affordances of technologies that foster higher quality engagement in the classroom.
Digital Portfolios & The Connected Classroom
Digital Portfolios are being required by many higher education institutions and are fast becoming mandatory for college entrance.  Digital portfolios allow students to document and reflect on their own learning.  Digital portfolios via a Learning Management Systems (LMS) make a powerful combination. Discover how this partnership allows students to interact, respond, and reflect on their learning as well as provide and receive feedback from their classmates.  Building a connected classroom community can increase the interactions among students, enhance the quality of their reflections, and ultimately enhance students' digital portfolios.
Mobile Devices In The Classroom – Apps And App Development
We provide mobile device training for STEM classrooms.  Emphasis is on what are the best apps to advance your students STEM learning, how you can explore app development resources available, and how you can effectively include app development into your classroom.
Join us for a fun day of paper engineering.  Learn the the core elements of "pop-up"- basic and advance folds as well as design mechanisms (such as linkages, wheels, cams, and levers) with paper to make amazing "pop-up" art (moveable books).
Make your own mechanical sculptures or stories, known as automata, with familiar materials like cardboard. We'll use simple mechanisms (like cams, levers, linkages, gears, pulleys, etc.) to make objects move up and down or back and forth or spin around. Design a scene that you imagine, then build a simple machine to make it work.
TurtleArt lets you make images with your computer. The Turtle follows a sequence of commands. You specify the sequence by snapping together puzzle like blocks. The blocks can tell the turtle to draw lines and arcs, draw in different colors, go to a specific place on the screen, etc. It was designed to be easy enough for children and yet powerful enough for people of all ages. TurtleArt is focused on making images while allowing you to explore geometry and programming.
Sewn circuits (or e-textiles) uses conductive thread, batteries, LEDs, and mini micro-controllers to make textiles light-up and blink.  This session will go from basics to advanced including: series and parallel circuits, switches, and micro-controllers. Join us to build your sewn circuit skills on a project or two such as: decorative pillow, clothing, belt, hair band, felt jewelry, etc).
---
Digital Art And Movie Making: Doink
Join us as we explore new ways to create digital art: Drawing, animation, green screen movie making.  This session will feature DoInk iPad app for Elementary school
Makey Makey & Scratch: Musical Instruments
Design your own musical instrument. Develop a physical prototype and infuse sound with scratch and Makey Makey technology. This project helps students to understand the virtual to physical connection.
Introduction to Robotics: Bad Robot Competition - Robotics has become so popular that there are a ton of robotics programs and kit out there today. How do you know what is best for your students?  What is the best way to teach students about robotics? This session will focus on the critical elements of robotics with projects appropriate for all grade levels.  Teams will build their own robot and compete with it on the playing field.
Virtual to Physical with Scratch, Makey Makey & LEGO WeDo
Taking your coding from the virtual world into the physical world is the basis for robotics.  Join us as we code in scratch to make things move. We will be using the Makey Makey and Lego WeDo for the physical movement. 
RubeGoldberg Goes Digital with Scratch & LEGO WeDo
In this session, participants will use simple Scratch commands and WeDo Lego to create a Rube Goldberg chain reaction. Learn how the physical world interacts with the virtual world while integrating STEM skills.
Introduction to Makerspaces & Maker Education
Does your school need help designing the vision  for makerspace ? Does your school have a makerspace but you have no idea how to use it?  This session will share all types of education makerspaces and the different roles they can play, various curricular options and different processes to consider.  This will be an opportunity for you to learn about the breadth and depth a makerspace can have in K-12.
Designing a Maker Curriculum
Join us as we explore how you can integrate Maker skills, tools, and mindset into your curriculum. Participants will develop a curricular unit that infuses these maker elements and meets curricular standards. Participant takeaways from the day:
Understanding of Maker mindset, skills, tools (that are suitable for Elementary grades)
Threading maker into your curriculum and classroom
Maker infused lesson plan ready for implementation in the classroom
Unpacking Design Thinking
Design thinking for educators is a creative process that helps you design meaningful solutions in the classroom, at your school, and in your community. Please join us to experience the d.school design thinking process and the learn some innovative strategies.
STEM to STEAM: The Power of Critical Making
STEAM is rising to the top as the most important education movement of our time. STEAM may be the most essential and the best pathway to develop creative, critical thinkers that employees desire.  Dr. Helen Soulé, Executive Director of Partnership for 21st Century Learning (P21), notes the importance of STEAM, "Given the importance of creativity for the future of our workforce and life success in a world where change is becoming the only constant, many educators and policymakers are embracing STEAM, to ensure that the arts get top billing as well."  Join us as we explore STEAM and the power of critical making in K-12.
Dynamic Duo: Project Based Learning (PBL) & Design Thinking (DT)
Join us as we explore the power of using PBL in conjunction with DT in your makerspace or classroom.  If you want to increase student engagement and autonomy the combination of PBL and DT strategies makes it happen!
Learn to Code with Swift Playgrounds
Learn how to leverage Swift Playgrounds and Apple Teacher materials in your classroom.  Swift Playgrounds is a unique learning environment that focuses on different skills that complements other learning tools. Come see the difference and the tools available within.
Learn to Code with Scratch:  Interactive Stories, Art, Simulations, and Games
Coding is as a critical skill for all makers, so if you have been wanting to get started with coding or want to gain some advanced capabilities join us for this special session on how to code with Scratch Jr. (K-2)** and Scratch (3-8).  Scratch is a programming language that makes it easy to create interactive art, stories, simulations, and games. **requires an iPad
Introduction to Computer Aided Design (CAD) and 3D Printing and Tinkercad
Do you have a 3D printer and not sure what to do with it? Join us to learn how you can use CAD to make your own designs to be 3D printed. CAD is a critical maker skill, helping to build students 3D thinking capabilities. Tinkercad is a simple FREE online 3D design and printing to
Introduction to Fusion 360  
Fusion 360 is a free cloud based 3D CAD/CAM design software by Autodesk for students, educators, and academic institutions.  Learn how to navigate this powerful tool and how to integrate it into your classroom.
Little Bits: Introduction to Electronics
Electronics is a basic skill for students in a makerspace.  Understanding electronics is necessary if students are interested in robotics or want to design with micro-controllers like Arduino or Raspberry Pi.  Join us to learn basic electronic with Little bits.
Coding and Electronics with Arduino and TinkerCAD
Learn how to add behaviors to physical objects with code. We'll design a circuit in TinkerCad, build it, and incorporate an Arduino microcontroller and give it fun behaviors and animations.
Introduction to Arduino
Arduino is used for building electronics projects. It has a physical programmable circuit board or micro-controller.  Join us as we work through some fun Arduino projects where you will learn the anatomy of the Arduino and how to write and upload computer code.  The application projects will be for middle school or high school level students.
Build a Weather Station: A Hands On Beginner Arudino Projec
Join us as we learn about basic electronics and arduino programming through building this project. We will be  wiring electronic components and programming an arduino to measure and display temperature and humidity.
Raspberry Pi Jam
In this hands-on introduction to using Raspberry Pi, you will learn how to get started with the Pi, some creative ways to use it in your classroom, and where to find more info for taking it to the next level. Bonus: How to remotely access the Raspberry Pi from your computer or smartphone.
Raspberry Pi Camera
In this workshop, we'll be exploring different Raspberry Pi Projects using the Pi Camera.  You will learn how to install and configure the camera as well as how to incorporate it into Pi based projects.
P2 : Powering Projects 
Need more energy for your projects?  How many LEDS can I use in a project? When will an LED explode?  Learn how to find the right kind and amount of energy for our project.  We'll review the kids of power needed for various projects. Charging, recharging, storing and using energy for student projects like solar panels, robots, and Arduino
Introductory Micro:bit Robotics: R/C Artbot
Using common materials, we will create a primitive micro:bit robot that draws.  With a second micro:bit, we will create a remote control for the artbot. All programming will be done with micro:bit Javascript Block code.
Designing with Vinyl Cutter
Desktop vinyl cutters are a great entry point for digital fabrication.  In this workshop, you will learn how to incorporate image and font resources into simple designs to a more complicated two layered design.  You will also work with different types of vinyl and create different projects from vinyl decals to small fabric project with an image of your choice.
Minecraft
Minecraft is a learning game that many of our students may already be using.  Learn about common activities, games and ways of learning built into Minecraft.  In addition, we will cover redstone logic and machines and make real curriculum content connections.